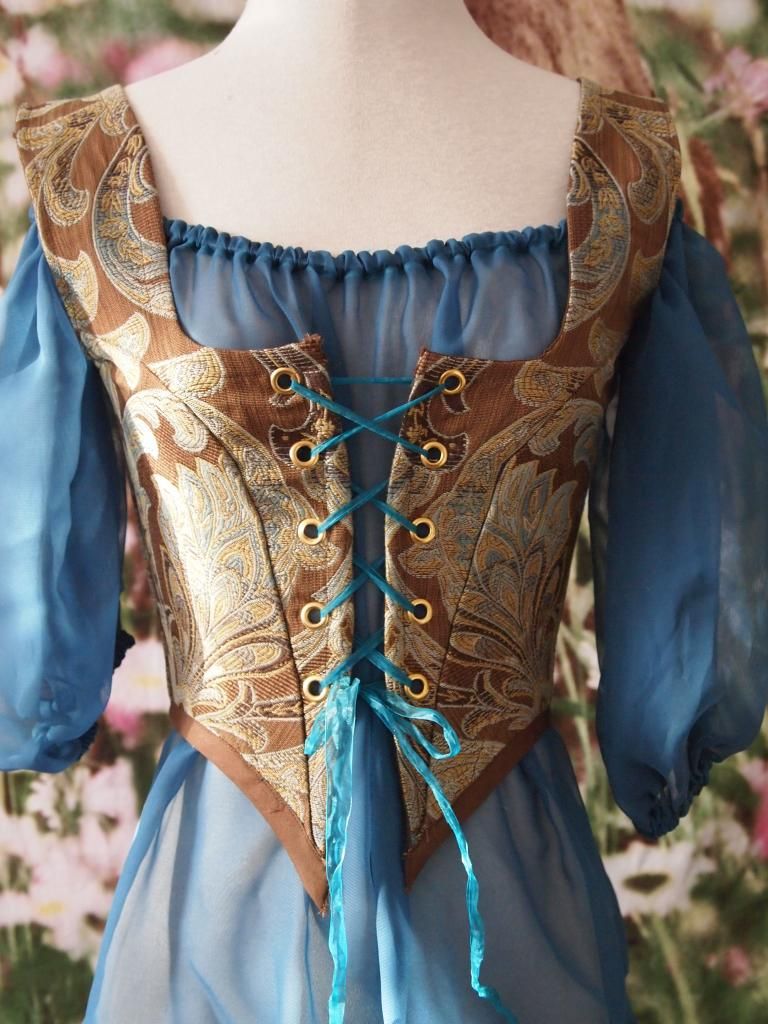 This year I decided I wanted to dress up for the Tennessee Renaissance Festival (
more info click here
)
I have dressed up before with a borrowed outfit and decided I wanted my own. But Renaissance festival outfits are crazy expensive. I just can't justify spending 300$ on something Im only going to wear it once a year, if that.
Luckily I hoard costume patterns! :D I decided to use Simplicity 3809 from my stash. I have never made a renaissance bodice before so I wanted one that was pretty, but simple.
I made the hand maidens version of the bodice and blouse.
Blouse:
Pattern Description:
A costume, loose fitting, peasant blouse. With elastic at the neckline and sleeves.
Pattern Sizing
(4-8) I made the size 8. Honestly though, the blouse is so loose fitting that I dont think it really matters which size you make as you can adjust the elastic to whats comfortable for you.
Did It look like the photo/drawing on the pattern envelop
e
Yes, but I omitted the lace on the sleeves and neckline.
Were the instructions easy to follow?
Yes, I found them quite easy to understand, though I did change some small things, I think a beginner could easily make this blouse.
Fabric Used:
An ultra sheer synthetic chiffon
What did you particularly like or dislike about the pattern
I liked how easy it was to make, especially the use of bias tape for the casing of the elastic. I wish that the blouse front neckline was lower however.
Pattern Alterations or any design changes you made
Well I actually posted on the forums about this question I had. I was worried about which color of bias tape to choose,thinking it would show through. What I really should have been worried about was the elastic color! After sewing the white of the elastic was very apparent . This would not be a problem if you were sewing a white blouse like the pattern. but my fabric was dark blue. I removed the elastic and dyed it with Rit liquid Dye. Dying the elastic was surprisingly easy. I just submerged the elastic for an hour in a small bowl of super hot water/dye mixture. I think it looks a
lot more professional with the dyed elastic.
Undyed Elastic
Blue Dyed Elastic
Would you sew this again/ recommend it to others?
I would use this pattern again if I needed another Renaissance blouse. It's a great quick and easy project!
Worn Pic at the Faire
Bodice:
Pattern Description:
A lined, boned, fitted, Renaissance style bodice with lace up front.
Pattern Sizing:
(4-6) I made the size 8. I found that the pattern was to big, especially considering it is supposed to have a gap in the front. I had to take each side in over an inch.
Did it look like the drawing on the pattern envelope
For the most part yes.
Were the instructions easy to follow?
NO!! I found them extremely confusing and nearly ruined the bodice. In the end I didn't use the directions at all.
Fabric use:
A thick woven upholstery material. It is absolutely beautiful in real life and is slightly shimmery/metallic in areas.
What Did you particularly like/ dislike about this pattern
How they explain the vest backing/lining is confusing.
Another thing that really irked me, is that on the notion side on the back it simply states "8 grommets" with out specifying the size. The pattern picture is to small to see what size they used. I ended up buying "grommets" that were way to big. Eyelets are better suited for this and are what I used.
Pattern Alterations/ Design Changes you made
Instead of doing 3 layers: fabric, vest backing, and lining. I sewed broadcloth to my fashion fabric and put bias tape, flipped it and sewed in down to the other side to finish the edges. I think this looks nice and is a lot easier than how the pattern explains. You would need 3 layers howerver if you were using thinner fabric for your outside. I also rounds the edges by the neckline instead of having them square.
Would you sew it again/Recommend it to others
No, I would not recommend it. I would maybe sew my version again however.
PS: I made a tutorial on how to easily insert eyelets
Here:
http://alpine-heidi.blogspot.com/2013/06/tutorial-how-to-insert-eyelets-grommets.html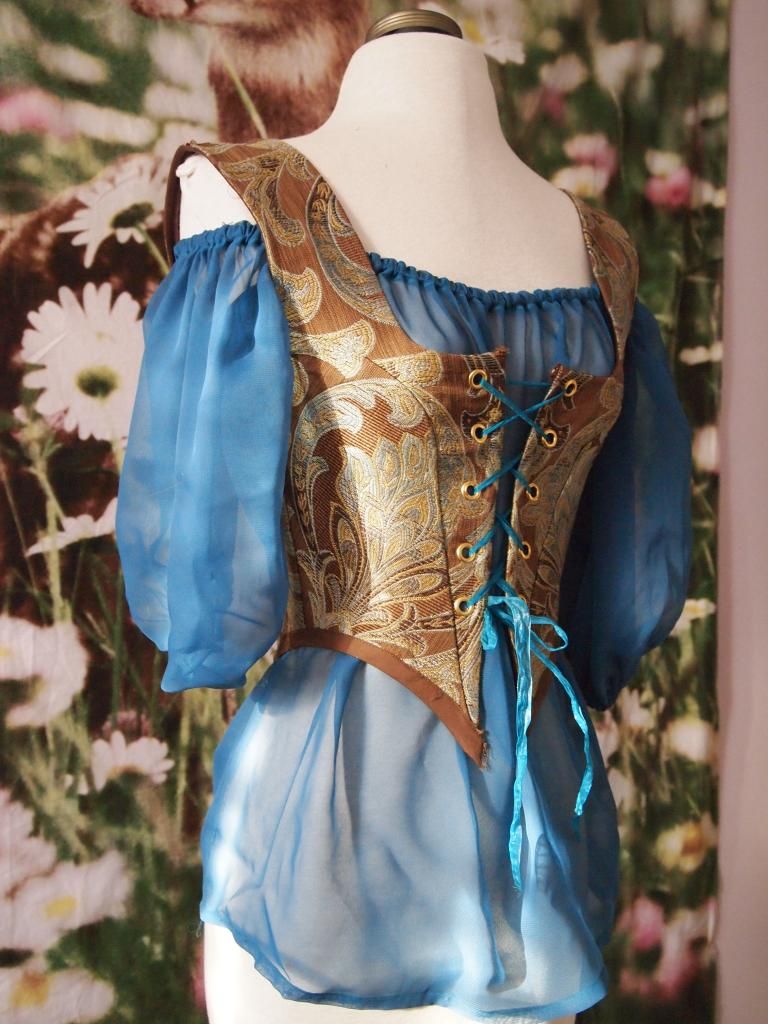 Back photos: